category : Famous People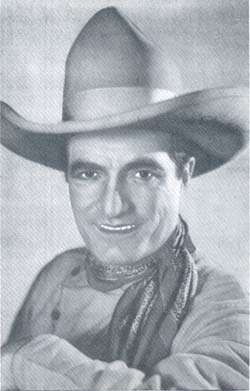 Thomas Edward Mix was everything his surname suggest - a mix of myth and man, fantasy and reality. His own life rivaled his screen escapades, and he was enormously successful.
The Man
Mix arrived in Oklahoma during territorial times. At various times Tom worked as a bartender, and he also worked as a ranch hand on the 101. For a short time in 1911 Tom Mix served as town marshal in Dewey, Oklahoma, the site of the Tom Mix Museum. While working at the 101 Ranch, Tom met Selig and began his movie career.
Born in Mix Run, Pennsylvania on January 6, 1880, Tom's parents named him Thomas Hezikiah Mix. When he enlisted in the Army in April 1898, he listed his name as Thomas E. Mix. Tom lead a colorful life. He married five times and had two children - Ruth born July 13, 1912 to Olive Stokes and Thomasina born February 12, 1922 to Victoria Forde. Tom died October 11, 1940 in a car accident on a highway between Tucson and Florence, Arizona.
America's Matinee Idol
Mix's daredevil attitude and superb horsemanship made him a natural for the silent "western." Tom Mix's movie career spanned twenty-six years from 1909 through 1935. At various times he was under contract to five different studios: Selig, Fox FBO (Film Booking Office), University and Mascot. In all he made 336 feature films, produced 88, wrote 71 and directed 117.
Tom made only nine sound feature films and the 15 chapter serial "The Miracle Rider." "Talkies" first became popular as Tom developed an interest in the circus, and the recording technology was not advanced enough to film the type of outdoor adventures Mix specialized in.
Separating Fact From Fiction
Once his movie career took off Tom Mix lived his life in the public eye. Photos filled newspapers, magazines and posters. News releases were always interesting and exciting but not always true. Various stories reported Tom served as a Texas Ranger, fought with Teddy Roosevelt's Rough Riders and was wounded at the Battle of San Juan Hill in Cuba. Reports also had Tom in action in the Philippines and in China during the Boxer Rebellion. Mix claimed he fought on both sides during the Boer War in South Africa. NONE of this was true.
Tony "The Wonder Horse"
Tom Mix retired his first range pony and movie partner, Old Blue, in 1914 and purchased Tony. Tom and Tony executed their own stunts. Tony, "The Wonder Horse" became almost as popular as his master. He could untie his master's hands, perform amazing jumps or pull him away from a blazing fire. In 1932, Tom retired the "Wonder Horse" to the Mix stables in Universal City. Tony, Jr. completed the Universal films with Tom. Tom trained Tony, Jr. as a circus performer. Tony II, a large white horse, accompanied Tom on his second European tour in 1938. Tony appeared in 181 films. Tom's original horse "Old Blue" appeared in 87, and Tony, Jr. appeared in nine films, all "talkies."
Under the Big Top
Tom Mix remains the highest paid circus performer in history. His $10,000 per week salary has yet to be equaled. Tom starred with the Sells-Floto Circus in 1929 and 1931. After making movies in 1932 and 1933, Tom returned to circus life from 1934 through 1938 when the Depression took its toll on the large motorized circuses.
The Legend Continues ...
Return to the days when the good guys wore white hats and sample something of the magnitude of Tom Mix, the Myth and the Man, at the Tom Mix Museum in Dewey, Oklahoma. Museum exhibits include a replica of Tony "The Wonder Horse," and Tom's collection of saddles, boots, guns and clothing. Be sure to plan time to visit the museum's theater and watch one of Tom's movie adventures. Tom Mix movies are shown continuously in the museum's 30 seat theatre until 3:30 p.m. each day.
- Oklahoma Historical Society

Phone: 918-534-1555

Come visit us in Dewey, Oklahoma