Topeka, Kansas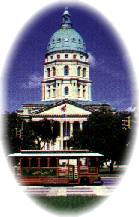 On December 5, 1854, nine men made the wintry trek from the tent city of Lawrence to a small log cabin on the banks of the Kansas River. Huddled in the cold before a smoky fire, this group of men founded a town which was to play a major role in the "Bleeding Kansas" territory and later become the new state's capital.
"Bleeding Kansas" in the 1850s has been called a prelude to the Civil War which would follow in the next decade. Topekans such as John Ritchie battled for the abolition of slavery as Kansas approached statehood. His home became a meeting place for the free-state faction and a station on the underground.
In 1862, there was not a mile of railroad on operation in the entire state of Kansas. By 1872, just ten years later, Kansas boasted more miles of track than any of the other 26 states, and Topeka was a major hub. The Union Pacific Railroad rolled into Topeka from Kansas City on January 1, 1866. In 1868, the Atchison, Topeka and Santa Fe railway was born. Among the notable people who passed through the station were Ulysses S. Grant, Gen. Philip Sheridan, Russian Grand Duke Alexis, and Kansas' favorite son, Dwight D. Eisenhower.
Carrie Nation called Topeka home for a time. She supported herself from sales of her newspaper, "The Smashers Mail " which she printed in Topeka.
The Episcopal Church established the College of the Sisters of Bethany in 1860, and Washburn University originally started in 1865 as a Congregational College.
When Karl Menninger received his medical degree, he came home to join his father and the Menninger Clinic was born. It is known as the world leader in mental health treatment and research.
From its beginning, Topeka has played a major role in government, transportation and health care. This strong tradition is still alive today. Topeka is a city with a colorful past which points to an even more exciting future.