category : Landmarks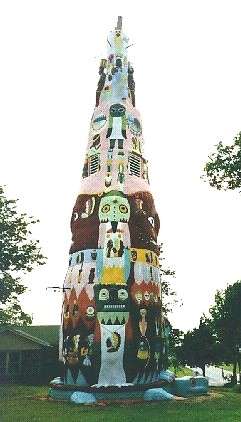 "World's Largest Totem Pole"
Folk-artist, Ed Galloway, spent his retirement years building a unique park, a monument to the American Indian from stone, concrete and his imagination. The center piece is a giant Totem Pole building supported by an enormous concrete turtle. Nearby is a "Fiddle House" in which were displayed hundreds of Galloway's hand-carved violins. Roadside tables supported by small concrete totems invite the travelers to picnic in the shadow of the Totem Pole.
In earlier years, Galloway taught wood-working to the children living at the Charles Page Home in Sand Springs, Oklahoma. He was well-known for his elaborately carved furniture, violins and wood pictures, many of which he displayed at the Park previous to 1962.
The Totem Pole Park Project has purchased 71/2 acres to expand the Park to include parking and picnic areas. The Totem Pole is one of Oklahoma's Landmarks and has been featured in several important articles and books on environmental folk art as "The World's Largest Totem Pole."
The public is encouraged to visit. Group tours can be arranged.

Admission: No Admission
Hours: Open Daylight Hours
Address: 4 miles east of junction Route 66 and Oklahoma Highway 28A, near Foyil; northeast of Claremore
Phone: 918-342-9149

Come visit us in Foyil, Oklahoma