Annual Chili Challenge
Starting date:
Ending date:
Event# 913-477-7130
Event Details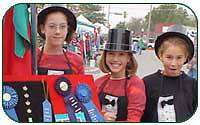 There are 65 teams competing in two divisions: Competition (C.A.S.I.) Chili and Home Style Chili. In 1999 a Salsa Division was added that has been very popular. Chili contestants show up Friday afternoon and begin setting up their booth space. The festivities begin at 8:00 pm Friday night with live music and activities for all. The contest begins Saturday at 9 a.m. and concludes at 5 p.m. with the announcement of the winners. There will be chili to sample, games, music, entertainment and the popular Southwest Fair.

The Southwest Fair will run in conjunction with the Chili Challenge. There will be craft booths selling items that have a southwest United States theme. This includes Indian and Indian-style arts and crafts, chili pepper items and things related to chili.

The 2001 Williams Foods Chili Challenge included the second annual Lenexa Chili Chase. This 1 mile Family Fun Run/Walk benefits Juvenile Diabetes. A $2.00 fee will be charged for all participants, with refreshments being served after the walk. All children will receive a walk packet and a certificate. T-Shirts will be available to purchase the day of the event. Call the Lenexa Community Center for more information (913) 541-0209.

The Williams Foods Chili Challenge is always held on the third Saturday of October each year. The contest is held in Old Town Lenexa (the corner of Santa Fe Trail Drive and Pflumm Road).

If you are interested in competing, being a judge, having a booth in the Southwest Fair, or want more information, call the CHILI HOTLINE at 913-541-8592.

Fri 8-10pm; Sat 9am-5pm
Annual Chili Challenge
Phone :
913-477-7130
(Always call and confirm events.)
Web Address :
http://www.lenexa.com
Admission Fee :
$1 per adult. Children under 12 free.
Cook Offs
Attractions and Upcoming Events
Things to do near Lenexa, KS