Uehling, Nebraska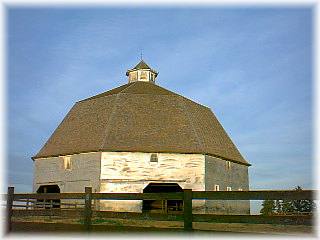 In 1847 Theodore Uehling, age 11, from Saxe Meininger, Germany, came to Wisconsin with his older brother Frederick. In 1860 Theodore, soon after his marriage to Katherine Schwab, moved west, arriving in Omaha that summer. After a short stay at the Clarke Creek settlement for protection from the Indians, the Uehlings moved to Section 18 in Dodge County, where they built a log house roofed with slough grass. They raised a large family: Otto, Henry, Edward, Ludwig, Martin, young Theodore (who drowned in Logan Creek) Fred, Lenora, Frank, and Louisa.
In 1864, when the Union Pacific Railroad received a government land grant to built its line across Nebraska, Uehling traded his farm on Clarke Creek for the land on which Uehling now stands, and built his home across the road from the future town site. The famed "Orville Uehling Round Barn" on the National Register of Historic Places, currently owned by his great grandson Russell Uehling, is found at that location.
Uehling's highest population in 1930 was only about 25 more than the present population of 270. There are currently 24 businesses and a host of active service organizations including, American Legion and auxiliary, rescue squad, firemen and auxiliary unit, a Lions Club, a business club, and Golden View Housing. Community facilities include an auditorium, a post office, a fire station, and the new village office.