Wild Rice Festival
Starting date:

Event# 651-792-7012
Event Details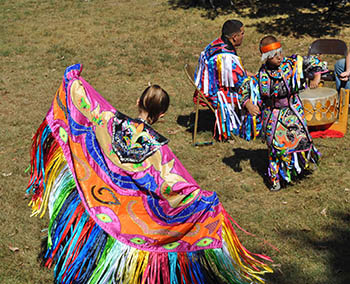 The Harriet Alexander Nature Center (HANC) is pleased to announce its Annual Wild Rice Festival on Saturday, 10am-4pm. This family-friendly celebration of wild rice, the Minnesota harvest season, and Native American cultures is an all-day event presented with the assistance of event partners the Pow Wow Grounds Cafe and Gibbs Farm. The Festival is free of admission charge, thanks to generous sponsors. All aspects of the festival will take place on the grounds of the nature center at 2520 N. Dale Street, Roseville, Minnesota.

A major goal of the festival is to provide education to the Roseville area community about local Native American cultures and traditions. You can learn how wild rice is harvested and processed the traditional way, and check out the Gibbs Farm tipi. Seasonal harvest activities might include honey extraction (been an off year for the bees as well) and help press yourself a cup of fresh apple cider. Food concessions include Native American offerings, including fry bread, by Pow Wow Grounds Café.

More information about the Wild Rice Festival, a Zero Waste event, can be found at https://www.cityofroseville.com/wildrice or by calling the Harriet Alexander Nature Center at (651) 765-HANC (4262).
Wild Rice Festival
Address :
Harriet Alexander Nature Center, 2520 N. Dale Street
Roseville
MN
Phone :
651-792-7012
(Always call and confirm events.)
Web:
www.cityofroseville.com/wildrice
Admission Fee :
Free admission, food for sale
Additional Notes :
Cultural Festivals
Attractions and Upcoming Events
Things to do near Roseville, MN