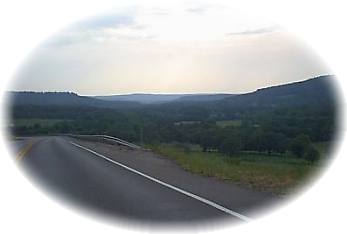 Adair County
boasts the oldest house in the state of Oklahoma - the two story, eight-room house build in 1833 by Joel Bryan. Old Baptist Mission, north of Westville, marks the end of the Cherokee Trail of Tears. Many descendants of those who traveled the infamous trail still live in
Adair County
, which is said to have the largest concentration of Cherokees in the nation. The Cherokee National Museum, west of Stilwell, presents ancient artifacts, Indian art, and other special exhibits which view the history and culture of the Cherokees.
Adair County
is comprised of two Cherokee Nation Districts, Flint and Goingsnake. Each Indian Territory district had its own courthouse. Flint courthouse was located at the town of Mayes south of Sallisaw Creek in what is now the Dahlonegah community. The Goingsnake courthouse was located just a few miles west of Westville. In 1977, the
Adair County
Historical Society obtained a grant to build a replica of the old Flint courthouse. The log structure was built on the exact site of the old courthouse. The Cherokee Nation now owns the property.
Adair County
was named for Colonel William Penn Adair, born in Georgia, April 15, 1830. He was the eldest of the 8 children of George Washington Adair, and Martha (Patsy) Martin Adair. His maternal grandfather was Judge John Martin, who was a member of the Cherokee Constitutional Convention of 1828, the first Chief Justice of the Supreme Court, and the first treasurer of the Cherokee Nation.
George Washington Adair was one of the signers of the Treaty of New Echota in 1835, The Removal Treaty, that precipitated the infamous "Trail of Tears." When removal seemed eminent, the Adair and Martin families left Georgia c. 1837, for the West. They traveled in covered wagons, taking their livestock and slaves with them.
The Adair family settled in the Flint District where William Penn received his schooling in the Cherokee schools. He served as senator of the Cherokee Nation from 1853 - 1860. Both he and his father served in General Stand Watie's company during the Civil War where he earned the rank of Colonel in the Cherokee Mounted Regiment. It was during this time that he served with 1st Lt. Clement Vann Rogers. They became such good friends that when Clem's son was born November 4, 1879, he was named William Penn Adair Rogers (Will Rogers).
After the Civil War Colonel Adair was chosen to be delegate to represent the Cherokee Nation in Washington, C.C. where he served for 12 years. In 1879, just before his death, he came Assistant Principal Chief. He died in Washington, D.C. on October 23, 1880, and is buried at Tahlequah.
Explore Adair County
Explore Adair County