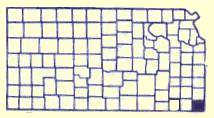 Cherokee County
is located in the territory that was part of the Louisiana Purchase in 1803. The area was then set out as the 'Neutral Lands" in a treaty with the Osage Indians in 1825. This 25 miles east- west by 50 miles north-south on the west of the Missouri border and east of the Osage Reservation was to be a buffer zone. Hunting, fishing, mineral extraction were allowed with no settlement of either white or Indians.
When the Cherokee Nation was relocated to the west from Georgia in 1835 they wanted more land. The Federal Government purchased from the Osage this 800,000 acres which then became known as the "Cherokee Neutral Lands".
The Kansas Territorial Legislature included the area in the setting of boundaries of the state in 1855. The southern boundary was to be at the 37th parallel and the area was named McGee County in 1860. Upon Kansas Statehood, January 29,1861, the area was 24 miles west by 50 miles north with the name changed to
Cherokee County
.
During the Civil War the Cherokee Indians sided with the south and believing they had ownership of the land, sold it to the Confederacy for $250,000 in Confederacy money, plus providing two companies of soldiers. This was to present a great deal of conflict over the title to the land.
Explore Cherokee County
Explore Cherokee County