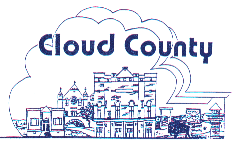 Stained Glass Capitol of Kansas
Be dazzled by the kaleidoscope of colors in a self-guided tour of stained glass windows in churches throughout the county. Don't miss the historic Brown Grand Theatre and Nazareth Convent in Concordia. Pum water by the windmill inside the
Cloud County
Historical Museum in the old Carnegie Library in Concordia. Walk across the stone arch bridge in Rice and savor the quiet. Watch migratory birds at the Jamestown Waterfowl Area or bald eagles on the Republican River. Feast your eyes on spectacular sunsets. Enjoy the relaxed, uncrowded, friendly atmosphere of
Cloud County
in North Central Kansas.
Cloud County history began in controversy, first over the name of the county and then over the location of the county seat. When the township was first formed in 1859 it was named Shirley by Riley County territorial legislator, D.L. Chandler, after Massachusett's Governor Shirley. However, rumor ran that the name referred to a lady of questionable character from the Ft. Riley area, so a bill was passed to change the name in honor of Col. William F. Cloud, a highly respected Civil War officer of the 2nd Kansas Cavalry.
The town of Clyde located on the north side of the Republican River was established and a logical site for the county seat. However, when the industrious James Hagaman decided to build and develop in Clyde, the city fathers dubiously modified their original transaction, and Hagaman vied he would never let Clyde become the county seat and took out his claim south of the river, founded Concordia, and developed it to become the permament county seat.
Explore Cloud County
Explore Cloud County