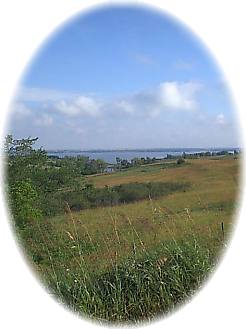 The Republican River Valley was once occupied by one of the greatest concentrations of buffalo on the Great Plains and was a favored hunting ground for the Pawnee, Sioux, Cheyenne, and Arapaho Indian tribes. The great number of buffalo led the Pawnee to call it the "Manure River.". The present name of "Republican" was derived from the Republican band of Pawnees that lived and hunted in the river valley.
Although the area was of prime importance as a hunting ground for Indian parties, it was not of any great importance to the early white settlers, mainly because it lay isolated between the Santa Fe and Oregon trails. Settlement in the area tended to follow the Republican River Valley because of the availability of water, timber, and good river bottom soil. Local tradition has it that the Indians warned early settlers not to build homes in the river bottom because of the "big water."
Ignoring these warnings, farmers were lured into the valley because of rich farmlands. Floods were a common occurrence over the years, but it was not until 1935 that the settlers learned what the "big water" actually was. It was described by witnesses as a wall of water 8 feet high. Over 100 people drowned in the flood and most bridges and farm buildings were swept away. The
Harlan County
Dam and several other dams were later built to prevent the collection of a single mass of water like the one that caused the disaster in 1935.
Since 1952, with the completion of Harlan Lake by the U.S. Army Corps of Engineers,
Harlan County
has attracted millions of outdoor enthusiasts to enjoy one of the premier recreational lakes in the state.
Explore Harlan County
Explore Harlan County