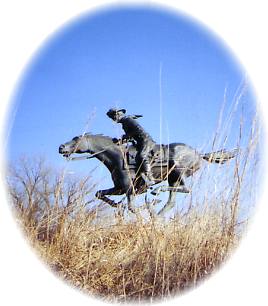 Marshall County
is rich in history with eleven sites on the National Historic Register. It is crossed by eight historic trails, including the Oregon Trail, the Pony Express Trail, the Military Trail, Overland (Stage) Trail, Mormon Trail, Otoe Trail, Pike's Peak-California Trail and St. Joseph-California Trail. It is also crossed by the railroad, which entered the county in the 1860's. It is estimated the westward migration over twenty-three years saw 500,000 follow these trails. The town of Frankfort is located on one of the longest Indian Trails in the United States. Blue Rapids is home of some of the purest gypsum mined in the world, and host to the 1913 World Tour, Chicago White Sox and New York Giants game.
In 1851, Francis J. (Frank) Marshall of Weston, Missouri arrived at the bank of the Big Blue River. He came to establish a trading post and to operate a ferry. On November 11, 1854, he opened the first civilian post office in the territory of Kansas. Marshall lent his name to the county and Marysville, the county seat, was named to honor his wife.
Prairie grass along the valleys and gentle slopes of
Marshall County
were transformed by immigrants into fertile acres of corn, milo, wheat, alfalfa and soybeans. Descendants of the first Hereford cattle brought into the county from England still are bred here, along with large herds of Angus and dairy cattle.
Explore Marshall County
Explore Marshall County