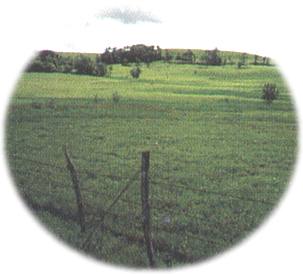 The land of which
Neosho County
is now a part was an Indian hunting ground for the Osages and other members of the Sioux Tribe when first visited by the white man. In 1838, a treaty was made whereby the New York Indians traded their lands in Wisconsin for 1,824,000 in Kansas, lying just north of the Cherokee Neutral Strip and the Osage lands, being 320 acres for each member of the Senecas, Onondagas, Cayugas, Tuscaroras, Oneidas, St. Regis, Stolkbridges, Munsees and Brothertowns.
Neosho County
was established under the name of Dorn County by the so-called Bogus legislature held at Shawnee in 1855, as the Territorial Capital before Kansas became a state. Dorn was split into Neosho and Labette Counties in 1861. The name Neosho had been used by the Kansas Indians many years before white settlement. George Sibley of the Santa Fe Trail survey team mentioned the Nee Ozho River in his journal entry of August 5, 1825. Ne means "water" and osho means "stream in" or "stream with water in it."
The Osages described the color of Neosho as "Water-Like-the-Skin-of-a-Summer-Cow- Wapiti." Pioneers sometimes referred to the river as Noshow because it occasionally went dry in the summer.
Explore Neosho County
Explore Neosho County