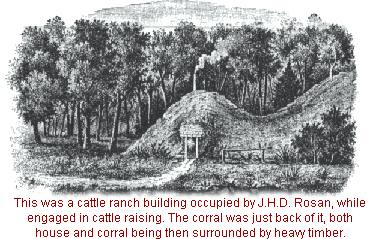 November, 1870, dates the arrival of Lewis M. Thomas as the first settler of
Reno County
, under its present boundaries. In December of the same year, Mr. Thomas, visiting Lawrence, purchased stock and supplies, and returned to his home, where he continued to reside up to a late period. On his return he was accompanied by John Hunt, an Englishman, who located and settled in the valley of the Little Arkansas, but afterwards, owing to his having occupied a railroad section of land, left the county. Antedating Mr. Hunt's settlement a few days was that of J.H.D. Rosan, who, in looking up the cattle business, decided to make a permanent location on this Section. This was in the fore part of December, 1870. Mr. Rosan, who was accompanied by James C. Burnett, "ranched" at Thomas' until February, when they crossed the sand hills and settled at a place known for many years afterward as Rosan's Ranch. In March, Rosan, his brother, Charles, and Charles Street drove in a large herd of Texas cattle.
About the first prominent object that relieved the weary eyes of the first settlers of
Reno County
, as they entered it from the northeast, were the sand hills, covered with a heavy growth of cottonwood timber. Trees were found nearly eight feet in circumference, and fifty feet to the limb. As this belt was about the only timber for miles around, it disappeared rapidly until the winter of 1872-73, when the supply was almost entirely exhausted.
Reno County
is the second largest county in Kansas. Established in 1867, its name honors Gen. Jesse L. Reno who died from wounds suffered in the Civil War in the Battle of Gettysburg.
Explore Reno County
Explore Reno County