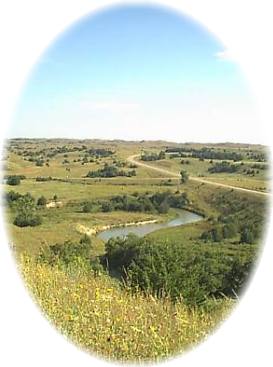 Thomas County
lies in the rolling Sandhills in north central and western Nebraska. The grass waves tall and the cattle herds are scattered over the hillsides. The ponds and lakes sprout duck families as if by spontaneous generation. This region is a sanctuary for large and small game, waterfowl, and a multitude of bird species. These is abundant surface and subsurface fresh water that test 99 percent pure. The Loup River wanders through the village of Thedford and the Dismal River maneuvers its curves providing canoeing nd other water related activities.

Lying south of Valentine National Wildlife Refuge and encompassing Nebraska National Forest, America's largest Man-made forest, Thomas County rests in the center of this prime area for hunting and outdoor recreational activities. The air is clear and clean. Pollution is non-existent and the sky is so blue it seems you can see forever. The trees and gardens in their varieties of green radiate on sunny days. And ;you can stand on a hill and look for miles without interference from high rise buildings, super highways or technical towers.

With the greatest supply of underground water in the world, moderate climate, and lush native grasses, the Nebraska Sandhills is the home of the finest cattle herds of nearly every breed, registered and commercial. With few exceptions, the ranches of the area are family owned and operated. Four to five generations of ranch families have bred and developed their herds to provide the feeders and breeders with the qualities they are looking for in cattle.
Explore Thomas County
Explore Thomas County