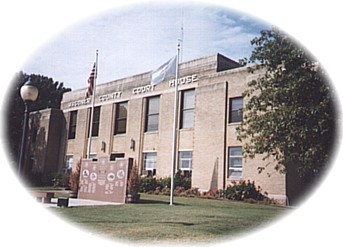 Before the
Wagoner County
area was known as Indian Territory, it was occupied by the Osage Indians. The Osage tribe hunted in the forests and fished the streams, just as their ancestors had done.
Settlers began coming into the area and setting up trading posts in the early 1800s, dealing in large quantities of furs provided by Osage hunters. An early settler of the area was Nathan Pryor, a member of the Lewis and Clark expedition, which was originally based at Three Forks, now called Okay. Pryor later moved to what is now called Pryor Creek where he established a trading post.
The Osage Indians, however, were pushed out of the area in the late 1820s, as the Creek and Cherokee were brought in from the South. Boundaries that were established for the tribes put the property eventually to became the Wagoner town site just inside the Creek Nation. The dividing line between the Creek and the Cherokee Nations was just east of the current high school.
The main thoroughfare of the country was the Osage Trace, which became known as the Texas Road in 1826. Shipping became a business in itself. In 1830, A.P. Chouteau built a shipyard at his trading post, below what is now the town of Okay. During the Civil War the this route was heavily traveled. In 1866, the Texas Road became known as the East Shawnee Trail, one of the first cattle trails to cross the area. In the early 1870s the Missouri, Kansas and Texas (KATY) railroad extended into the county.
Explore Wagoner County
Explore Wagoner County