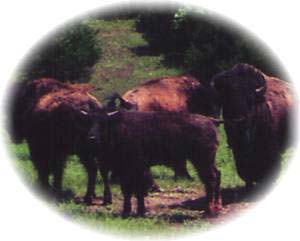 Although Nebraska Territory was not created until 1854, the area was already well-known as the main east-west route along the Platte River. Westward travel on the Oregon, Mormon, and California Trails had reached such proportions by 1848 that Fort Kearny was established to protect travelers on the trails.
In the fall of 1872, the village of Kearney Junction was formed paving the way for the City of Kearney to be incorporated a little over a year later.
The first courthouse of
Buffalo County
erected at Gibbon in 1873. In 1874, after considerable agitation for the relocation of the county seat, an election was held, and a majority was cast for the relocation of the county seat at Kearney. The incident which followed the results of that election is often referred to as "stealing the courthouse records." With the results of the election already in, the County Clerk, Joseph Scott, and his deputy, F.G. Keens, loaded the county records in a farm wagon, considerably after normal business hours and arrived in Kearney about 2:00 a.m. where they were hidden in the "Chandler Building" where the Telephone Company is today. Mr. Keens stood guard over the records for the rest of the night.
The Union Pacific Railroad donated a site for a new courthouse, and built a frame building which was not occupied until January of 1886. This building served as the
Buffalo County
Courthouse until a new county courthouse was built and completed in 1890. The frame courthouse was then moved to a new location on First Avenue and served first as a WCTU hospital and later as a home for the Veterans of Foreign Wars.
Complete histories of
Buffalo County
are exhibited and recorded at museum's in Kearney and Gibbon and The Great Platte River Road Archway Monument is a "must see" as the only museum that spans an interstate highway and brings the history of life along the westward trails in chronological dioramas putting you right alongside the pioneers and listening to their stories.
Explore Buffalo County
Explore Buffalo County