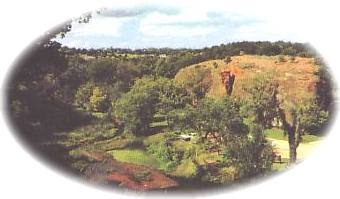 Caddo County
in the beautiful Washita river valley in southwest Oklahoma has bountiful scenic resources, abundant recreational resources and several major points of historical interest. Many of these are well-known and are considered among the major tourist attractions of the state.
The beauty of the autumn foliage to be viewed on a drive through the hills East or West of Binger on highway 152 is unsurpassed by that on any foliage tour. The landscape which presents itself as you drive west of Anadarko on highway 62 is almost the equal of the better known 152 drive. In the spring the native redbuds burst forth to make these miles appear as one giant pink blossom. In the fall, the trees along this route parade their many hues for all to enjoy.
Water plays an important part in the recreation available to
Caddo County
residents and visitors. The 372,000 acre feet of water impounded in Fort Cobb Lake, Chickasha Lake and the flood control detention dams on the major watersheds plus the 5,331 farm ponds provide ample opportunity for all kinds of water sports. Water skiing is a popular attraction at Fort Cobb Lake, and Chickasha Lake. Two State Parks at Fort Cobb Lake and Red Rock Canyon are perfect locations for outdoor enthusiasts.
The Indian heritage of the county is the basis of many of its tourist attractions where Anadarko is the sight of Indian City, U.S.A., the only authentic restoration of seven full-size American Indian villages and way of life in America. Six tribal complexes are located in the County.
To visit
Caddo County
is to visit a land on which the Indian made his first transition toward what the White man called civilization. That transition was made without loss of stoic dignity, the knowledge of self-preservation and delicate handicraft which always has been identified with the Redman.
First to come here under supervision of the federal government were the Caddo Indians in 1859 for whom the County is named. The first residents arrived in 1867 - members of the Wichita, Caddo and Delaware Tribes were assigned lands north of the Washita River and members of the Kiowa, Comanche and Apache Tribes were settled south of the river.
Explore Caddo County
Explore Caddo County