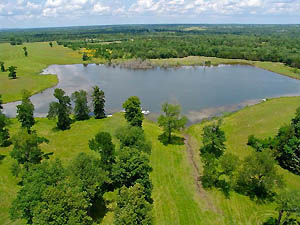 Unlike Western Oklahoma's flat, red and dry lands, Choctaw and surrounding counties abound with beautiful wilderness rivers and streams and numerous lakes. The area is often billed as a "Sportsman's Paradise" because of plentiful game and fishing opportunities in, and surrounding Hugo and
Choctaw County
. Much of this outdoor paradise lies in and around the Kiamichi (Ki-A-Mee-Chee) Mountains and the Kiamichi River, from which the Hugo Lake is formed. Though once believed to be an Indian word, the word 'Kiamichi' was introduced by early French explorers, who found the area abounding with wild game, and also a very large and outspoken woodpecker. They named the bird and the area 'Kiamichi' --their word for "raucous bird."
Hugo is the county seat of
Choctaw County
, located in deep Southeast Oklahoma, approximately 60 miles from the Arkansas and Louisiana borders, and 25 miles north of Paris, Texas.
In these early settlement days, supplies were brought into Fort Towson 15 miles east of Hugo. Fort Towson, built in 1824 along with Ft. Gibson in anticipation of the coming of the Five Civilized Tribes, became a hub trading village. Today Fort Towson gains in historical significance as History buffs discover that it was there that the very last treaty ending the Civil War was signed By Brigadier General Stand Watie, the last Confederate general officer to surrender and lay down his arms on June 23, 1865.
On November 3, 2011, the U.S. Navy honored
Choctaw County
with the naming of a ship. The upcoming vessel--a Joint High Speed Vessel (JHSV)--simultaneously honored the three American counties named
Choctaw County
, in Alabama, Mississippi, and Oklahoma. "I grew up in
Choctaw County
, Miss., where people work hard to raise their families and provide for their children," Secretary of the Navy Ray Mabus said when he announced the naming. "I chose to name JHSV after
Choctaw County
to honor those men and women who represent rural America." USNS
Choctaw County
will bear hull number JHSV-2. The swords on its coat of arms symbolize cooperation and teamwork and the JHSV's capability to transport both U.S. Army and U.S. Marine Corps personnel and their military vehicles.
Explore Choctaw County
Explore Choctaw County