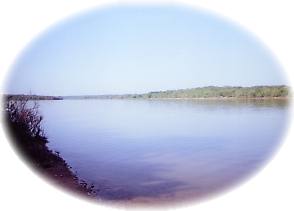 Cleveland County
is located in the center of Oklahoma with the South Canadian River forming a diagonal west and south border, and wherein lies beautiful Lake Thunderbird.
In 1870, the United State Land Office contracted with a professional engineer to survey much of Oklahoma territory. Abner E. Norman, a young surveyor, became chairman and leader of the central survey area in Indian territory. The surveyor's crew burned the words "Norman's Camp" into an elm tree near a watering hole to taunt their younger supervisor. When the "Sooners" (those who headed west before the official Land Run date, April 22, 1889) and the other settlers in the heart of Oklahoma, they kept the name "Norman." Today, the county seat of
Cleveland County
is the third largest city in the state.
While other Oklahoma towns were battling to be the capitol, Norman's Mayor, T.R. Wagoner, directed a bill through the Territorial Legislature to become home of the state's first institution of higher learning. In 1890, Norman was chosen as the location for the University of Oklahoma (OU), today recognized nationally for it athletic and academic excellence.
Norman is also home tothe nationally renowned Sam Noble Oklahoma Museum of National History. Plus, Norman is rich in Oklahoma history and boasts homes and sites that have stood since the turn of the century. Norman recognizes the cultural and economical importance of art offering art centers, galleries, and performances that are among their most visited attractions.
Early May is the time to visit Noble for the Rose Rock Festival and to stop in the Timberlake Rose Rock Museum to see the legendary rose rock found only in Oklahoma.
Explore Cleveland County
Explore Cleveland County