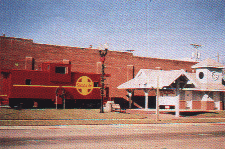 ENJOY SOME COFFEY WITH YOUR FUN!
Coffey County
offers so much to do, you'll never want to leave! Your "Coffey Break" begins in Burlington. Stop by the Visitor's Information Center to get your adventures started right! The
Coffey County
Visitor's Center and
Coffey County
Chamber of Commerce is located at the northwest corner of Neosho Street and U.S. 75 Highway, in the heart of Burlington, which is the county seat.
Step back in time with a visit to the County Museum or one of the local antique shops. Leap into the future with a tour of the state's only Nuclear Power Generating Station, Wolf Creek.
For those thirsting for outdoor excitement, John Redmond Reservoir can quench that thirst...with over 9400 acres of surface water! John Redmond Reservoir offers overnight camping with RV accommodations, fishing, boating and every form of water sport "under the sun!" Plus nature lovers will enjoy a hike through the Flint Hills Wildlife Refuge. This area is home to spectacular wildlife and birds, including the American Bald Eagle.
Wolf Creek Lake, a 5090-acre lake, provides cooling for Wolf Creek systems used in producing electricity. The lake is also home to many species of fish including striper, wiper, and large and smallmouth bass; black and white crappie; walleye; and blue, flathead and channel catfish.
Explore Coffey County
Explore Coffey County