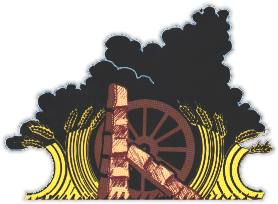 Enjoy... the natural geographic wonders of Mushroom Rock State Park or take a walk back in time through Faris Caves, with its story-telling Indian Carvings of centuries past. Enjoy the serenity of the many nature trails...hiking where wagon trains crossed the prairie and where Indian and Buffalo roamed. Atop Horse Thief Canyon enjoy a breathtaking view of Kanopolis Lake and the Smoky Hill River Valley, with its rolling hills and plains as far as the eye can see.
Ellsworth County
offers you a piece of the good life. Nestled between two lakes, fishing, boating, and many other water sports can be enjoyed year around. Wildlife and waterfowl are abundant for the sightseer or the hunters.
History runs deep and varied in this post rock country. Enjoy the rich Czech heritage of Wilson, the Mexican heritage of Kanopolis, the strong Baptsit roots of Lorraine, and the German-Irish heritage of Holyrood, or experience the Wild West Cowtown Days of Ellsworth. The pride of who we are can be enjoyed at four museums in the county.
We invite you to enjoy a bit of our relaxed, quiet beauty. See deep green or amber waves of wheat, to fish filled lakes and cattle grazing on rolling pastures...meet residents with a friendly smile and hello...come and experience our "Pride of the Prairie"...Welcome to
Ellsworth County
.
Explore Ellsworth County
Explore Ellsworth County