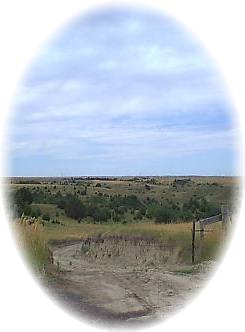 This area of the country was established in the mid-1880s when the Burlington and Missouri Railroads built a route through this area. It was named for its geographic location in a frontier region of sparse settlement.
The county seat of Frontier County is Stockville which still maintains its courthouse that was built in 1888 with a historic monument on the front lawn. At the fairgrounds a log cabin built in 1882 is on display. Speaking of fairgrounds, Frontier County is the only county in Nebraska to host two county fairs - one in Stockville and one in Eustis. Eustis is also the center of a delicious celebration during its German Wurst Tag the second Saturday in June.
Curtis is the home of the Hansen Memorial Museum featuring numerous oil and china paintings by the famous Nebraska artist, Ann Marie Jamison. Named by the State Legislature as Nebraska's "Easter City," the community hosts the annual Easter Pageant, a production rivaling Europe's Passion Play.
Maywood celebrates Old Glory Days near Memorial Day and is located within 25 miles of three lakes. Red Willow Reservoir and Medicine Creek Reservoir both lie in the southern corners of the county. Lake Wellfleet is only a few miles north of Maywood, which is also the location of Dancing Leaf Earth Lodge offering visitors a unique opportunity to experience primitive Native American life.
Frontier County is a haven for hunters and fisherman with both reservoirs offering Wildlife Management Areas. The surrounding communities welcome sportsmen with good food and accommodations.
Explore Frontier County
Explore Frontier County