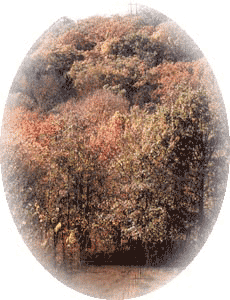 Traders and settlers heading west would have been just one day out of Independence or Westport, Missouri, when they came into this area. From the pages of their diaries they speak to us today about their first night on the prairie at Lone Elm campground, the point where the trails divided, the dangerous crossing at the "Narrows," and the beauty of the Kansas prairie as seen for their first time. One, Thomas Johnson, who established the Shawnee Indian Methodist Mission, is the county's namesake.
The story of the Santa Fe and Oregon-California trails is closely tied to the history of Kansas. Trade with the Spanish Southwest began in 1821 as William Becknell established the route leading to Santa Fe. For more than fifty years the Santa Fe Trail was traveled by traders, military units and fortune seekers. Between 1840 and 1870, a quarter of a million Americans crossed the continent on the Oregon-California Trail. These pioneers followed the Santa Fe Trail out of Independence or Westport, Missouri, and then turned north just outside of Gardner, Kansas. With the arrival of the railroad in 1872, came a rush of European immigrants and the county (especially Olathe, described then as the "Eden of Kansas") boomed.
We invite you to share our area's rich history. Visit two authentically restored museums. Experience the beauty of the tallgrass prairie. Walk in the ruts created by thousands of wagon wheels. Friendly folks in each community will accommodate you on your modern-day overland trail adventure.
Explore Johnson County
Explore Johnson County