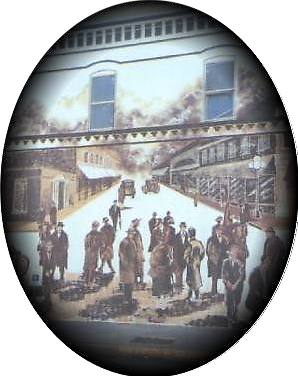 Kingfisher County
was created in 1890 from Unassigned Lands, and was originally known as County No. 5. It was named for nearby Kingfisher Creek, which was named for a man, King Fisher, who owned a stage stop. Land in
Kingfisher County
was distributed in the April 22, 1889 Land Rush.
Located on a natural track between the hills and less watered lands,
Kingfisher County
was a travel grounds for nomadic tribes, military supply routes, pony express and stage coach routes. The site of Kingfisher's Stage Station lies within the city limits of Kingfisher, the present county seat. As millions of Texas Longhorns traversed to Kansas railheads to feed a hungry post Civil War nation, Kingfisher was a section of the fabled Chisholm Trail.
Kingfisher was the starting line for the "Run of '89" pioneers who did not have to run too far. Kingfisher became one of the Oklahoma towns which grew from bald prairie fields to a bustling city overnight.
Abraham Jefferson Seay, second Territorial Governor of Oklahoma had a dream of making Kingfisher the capital of Oklahoma, but his dream fell short .
Kingfisher's basic agricultural economy was in place prior to the Land Run of '89. After settlement, wheatlands were developed and much later came the great oil booms. Large cattle operations leased from Indian tribes were located here. Even during major economic setbacks the three legs of Kingfisher's economy - cattle, wheat and oil remained as strong economic generators.
Around the turn of the century the slogan "Buckle of the Wheat Belt" came to designate Kingfisher. With no rail west of town and a major federal road running through the county (US 81), wheat came from as far as a hundred miles. Kingfisher was the largest wheat market in America and is still perceived as such today.
Census records are available beginning with the 1890 First Territorial
Census. Most county records begin in 1890.
Explore Kingfisher County
Explore Kingfisher County