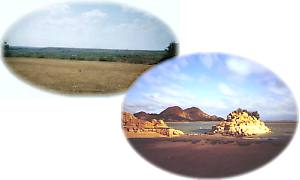 Kiowa County
was organized in 1901 following the opening of the Kiowa-Comanche-
Apache, Caddo-Wichita reservations to non-Indian settlement. This opening attracted more than
165,000 hopeful pioneers, and was the only area of Oklahoma settled by lottery.
At that time is was described as the "cream of all lands, one of the richest in resources of any of the new country with less waste land and beautiful, level, or undulating plain with broad valleys and bottoms of the richest brown loam termed, 'chocolate loam'."
Natural beauty abounds in
Kiowa County
as the steep granite cliffs of the Quartz Mountains seem to just suddenly appear as you drive along the usually prairie level highway. The eastern border of the county approaches the Wichita Mountains, another area of time worn mountains of solid rock inviting you to climb between the crevices to reach the summits.
To add to the outdoor activity of Oklahoma mountain climbing, the low areas of these mountain ridges contain Lake Altus-Lugert in the Quartz Mountains and Lake Tom Sneed just west of the Wichitas. Both lakes offer fishing, water sports, camping, and a beautiful resort on Lake Altus with a newly added Performing Arts Center.
Named after the Kiowa Indians that occupied the area in the pre-settlement years,
Kiowa County
was once the ideal crossing for cattle herded up the Great Western Cattle Trail from Texas to the shipping yards in Kansas, witnessing as much cattle movement as the famous Chisholm Trail to the east. Community names like Gotebo (Kau-Tau-Bone, sub chief of the Kiowa) and Lone Wolf (Kiowa Indian Chief) still carry the Indian influence into present.
Explore Kiowa County
Explore Kiowa County