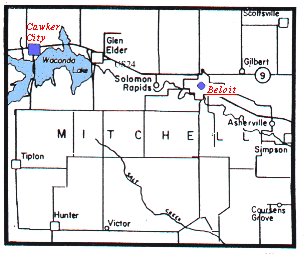 Mitchell County
lies in Post Rock Country, an area of about 5,000 square miles running diagonally across mid-Kansas. the limestone, which lies only 12" to 18" below the surface proved very valuable to the pioneers for building materials. Prairie fires had destroyed most of the trees with only cottonwoods left along streams and river banks.
Normally, the limestone quarries were opened on the hillsides so only the overburden had to be removed, exposing a layer of limestone, usually about 8" thick. The rock was soft and relatively easy to work until exposed to the air when it quickly dried and hardened. Thus limestone fence posts became an identifying feature of the area rather than wooden fence posts. The beautiful limestone homes and courthouses are a reflection of the early day buildings.
Mitchell County
was formed in 1870. It was named in honor of Capt. W . D. Mitchell, a Union Army officer who died in a battle at Monroe's Cross Roads in North Carolina in March 1865.
The first settlers in the area located near Solomon Rapids in 1865. Their cattle were run off by the Indians in 1866, forcing them to abandon their homestead. The town of Asherville was plotted in 1866. That year there was only one log cabin on the present site of Beloit, which was known as Willow Springs.
Mitchell County
surrounds beautiful Lake Waconda - Glen Elder. The lake's surface area of 12,586 acres and 100 miles of shoreline afford ample room for many water-related activities. In addition to the water acreage, more than 13,200 acres of land are managed for public recreation.
Explore Mitchell County
Explore Mitchell County