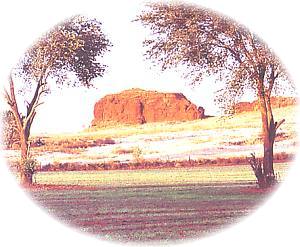 Visitors are enticed with the vast beauty of the rolling red hills. Eons ago a vast inland sea covered this area iron deposts left behind gave our beautiful hills their rich, red color. Fossilized remains of prehistoric animals have been unearthed as have the stone tools and skeletal remains of the area?s first-known human inhabitants, the Mezo-Indians.
The distinctive formations of the Antelope Hills were a landmark for Spanish explorers in the 1500s and later for settlers moving west on the south branch of the California Road. The Comanches, Kiowas and Lipan Apaches dominated this part of the plains until the Cheyenne and Arapaho migrated here in the early 1800s.
Roger Mills County
is named in honor of Roger Q. Mills, a Texas Congressman who supported Oklahoma for statehood. Before we were
Roger Mills County
, this area was known as "F" County, Oklahoma Territory, and Day County. The Land Run of 1892 opened the Cheyenne and Arapaho Reservation to white settlement. Many who live in the area are direct descendents of the pioneers and of Cheyenne Chief Black Kettle?s band.
Lt. Col. George Custer?s attack on Chief Black Kettle?s sleeping village in 1868 is commemorated in the Washita Battlefield National Historic Site, the Black Kettle Museum and the ?Washita Woman? Statue. Other
attractions such as the Strong City Townsite House, Santa Fe Depot,
Minnie R. Slief Community Museum, Metcalfe Art Gallery and Museum, and the Roll One-Room School depict the pioneer heritage and spirit that is a source of pride for residents of
Roger Mills County
.
Other landmarks include the Veteran?s Monument, Cheyenne Memorial Wall of Fame and Longhorn Field House. The Red Rock Records Vault is all that remains of the old courthouse burned by outlaws trying to destroy evidence against themselves.
Old west adventures become reality at the Black Kettle Roundup Club?s Memorial Rodeo on Memorial Day weekend as cowboys and cowgirls compete in the country?s top rodeo.
One of the oldest powwows in Oklahoma, the Red Moon PowWow takes place the last weekend in May with Native Americans in authentic clothing participating in song and dance contests.
The Pioneer Day Festival on the first Saturday after Labor Day features an arts & crafts show, games, exhibits, food, an auction and much more.
Explore Roger Mills County
Explore Roger Mills County