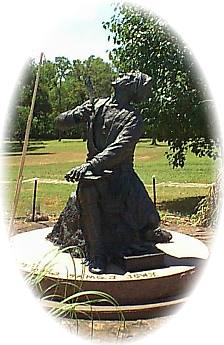 In 1820, some of the Cherokee Indians migrated from Georgia and in 1838-39, the remainder of the tribe was forced-marched over the "Trail of Tears" to what is now Oklahoma. The southern-most land assigned to them is the present
Sequoyah County
area. When Oklahoma was granted statehood in 1907, the county was named Sequoyah in honor of the famous Cherokee educator.
Sequoyah, the Cherokee soldier and teacher, gained world-wide fame when he devised the Cherokee syllabary. His statue is in the Nation's Capitol as one of Oklahoma's two greatest men. The giant redwood trees of California are named for him.
Sequoyah's original homesite is preserved in a beautiful park and historical complex just north of Sallisaw. Other artifacts of the area are on display in the 14 Flags Museum located in Sallisaw, as well as the restored depot and historic buildings around the town.
In western
Sequoyah County
just east of Gore, Tahlonteeskee, the first Cherokee capital, is reconstructed with the courthouse, council house, and Old Settler's Cabin.
The Robert S. Kerr Lake and Navagational System and Lake Tenkiller provide abundant outdoor recreation including boating, fishing, hunting, skiing, hiking, wildlife viewing, and educational opportunities at the Wildlife Refuge and the Lock and Dam.
Explore Sequoyah County
Explore Sequoyah County