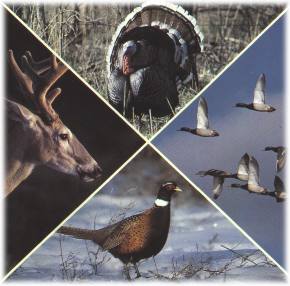 For more than three centuries,
Stafford County
was, figuratively speaking, a "house by the side of the road, where the race of men go by."
With the early exploration in Kansas by Coronado in 1541, from Spain, his route was destined to become one of the most historic roadways of all Kansas. In 1740, the Mallet brothers traversed it on their tour of exploration; Zebulon Pike trod its miles on his way to Colorado in 1806. This same strip of bottom land became part of the Santa Fe Trail and continued to be the chief thoroughfare of central Kansas until the coming of the Atchison, Topeka, and Santa Fe --and even the railroad followed the same route as far as Kinsley.
Stafford County
was created in 1868, although not formally organized until 1879, with the required 600 population requirement. It was named in honor of Capt. Lewis Stafford, a Civil War soldier in the lst KS Infantry. After incarceration in Andersonville, Stafford was killed at the battle of Young's Point in Louisianna.
The Mormon community of "Latter Day Saints" is generally credited with first settling the county as well as building the first church in the county. Arriving in 1875, some 25-30 ox-driven vehicles rolled in coming from West Virginia and Pennsylvania.
Their homestead clustered around the exact center of the county. The established a Post Office in the name of Zion Valley.
History of Stafford County, by Frank E. Steele
Explore Stafford County
Explore Stafford County