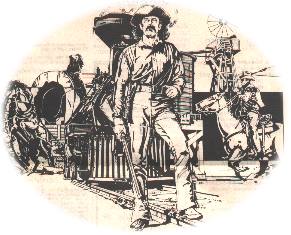 100 years ago the area that is now
Stevens County
was known chiefly because the Cimarron route of the Santa Fe Trail went through there and because that area was good buffalo hunting grounds. The lush grass of the Cimarron Valley probably tempted many Texas cattleman as they drove their herd thru western Kansas on the way to the railhead at Dodge City, but none ventured to claim this prize until 1879 when the Beauty brothers arrived with a herd under the leadership of John Beaty. The established 3 ranchers, one, Sand Wells, in
Stevens County
. The county was permanently organized by an act of the Kansas Legislature in 1887.
The town of Woodsdale was located 8 miles from Hugoton and was Hugoton's chief rival in the early days of the county. Nothing remains of Woodsdale today, but it fought fiercely to get the county seat honors in a fight that culminated in what is known in
Stevens County
as the Hay Meadow Massacre.
Finally in 1913, the railroad came to Hugoton. This was cause for the biggest celebration that
Stevens County
had ever had. Twenty beeves were barbecued to feed the railroad officials, government officials and 8,000 visitors who came.
Explore Stevens County
Explore Stevens County