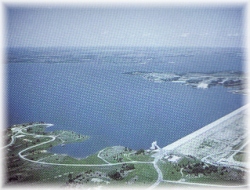 On the largest man-made lake in Kansas there's definitely an outdoor experience waiting for everyone! With over 15,000 surface acres, Milford Lake, known as "The Lake of Blue Water," provides abundant room for sailing, boating, water skiing, pontoon excursions and still has room for some serious fishing. In fact, Milford Lake hosts some of the largest national fishing tournaments sponsored by prestigious names like B.A.S.S., In-Fisherman, and Cabella's, like the KingKat National Catfish Tournament, along with several Walleye Championships. With 163 miles of shoreline, even the weekend fisherman can find more fishin' holes than spots on a leopard.
There are approximately 19,000 acres of public land surrounding Milford Lake on the west side and the upper end. All 19,000 acres are open to public hunting. Hunters will find a variety of game including quail, pheasant, prairie chicken, duck, goose, rabbit, turkey, deer and squirrel. Trappers are also active throughout the season in pursuit of raccoon, muskrat, beaver and other furbearers .
8 newly formed wetlands are located along the Republican River all north of the Milford Lake. They surround the Steve Lloyd Refuge area. Numerous opportunities exist for those who wish to observe or photograph wildlife on the area. The abundant and diversified habitat at Milford supports many species of nongame birds, mammals, reptiles and aquatic life.
Located on the southeast shore of the state's largest lake, Milford State Park is a favorite getaway for outdoors loving visitors where you'll find sandy swimming beaches, 14 public ramps for launching boats, canoes or sailboats. The lake has both public and private campgrounds, a resort, RV sites, cabins and primitive camping sites.
Lake Information
Fees: Park Permits Required
Location: 5 miles north of Junction City on Hwy K-57
Contact: 785-238-5714