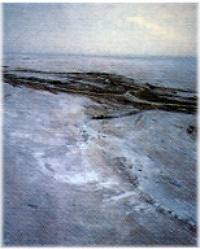 Great Salt Plains State Park, developed as a state park in 1952, is perhaps the most unique of all Oklahoma State Parks. Great Salt Plains has intrigued vacationers and rock hounds from all over the globe.
Great Salt Plains State Park boasts the only spot in the world where people can dig for "hourglass" selenite crystals. The crystals emerge from the enormous salt flats and are found just beneath the surface. The crystals are quite fragile and require a shovel or hand spade for their retrieval. The digging is seasonal, from April 1 through October 15.
The salt flats themselves are literally a sea of salt. It is one of Oklahoma's most unusual geological phenomena. One theory of their existence states that the flats represent the remains of a prehistoric sea. The salt flats aren't the only noteworthy resource of Great Salt Plains, for a large federal wildlife refuge is located next to the state park.
Great Salt Plains Lake covers 9,300 acres with 41 miles of shoreline and is understandably, a shallow, salty lake--about 1/3 to 1/2 as salty as the ocean. The premier channel catfish lake also offers fishing and boating activities.
Find out more