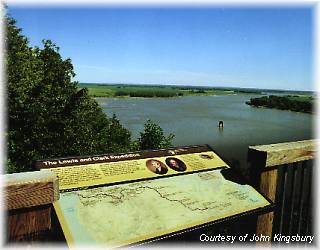 Situated astride the picturesque Missouri River bluffs in northeastern Nebraska, Ponca State Park is at the eastern gateway of the Missouri National Recreational River, a 59-mile section featuring the only unchannelized section of the river bordering Nebraska. Designated under the Scenic River Act in 1978, this section of river gives visitors a glimpse of how the untamed river looked before modern man changed it forever.
The park is two miles from the town of Ponca, just off of Nebraska Highway 12 on S-26E. Both the park and the town are named for the proud Native American tribe that once inhabited the area. It was the famed Ponca Chief Standing Bear who fought and won the court battle to have the Indian declared a "person" under American law. His achievement won him a place not only in history but also the Nebraska Hall of Fame. Here, too, Lewis and Clark passed through during their epic journey up the Missouri.
The National Park Service has designated Ponca State Park as part of the Lewis and Clark Historical Trail. Developed and operated by the Nebraska Game and Parks Commission, Ponca State Park encompasses 892 acres of heavily forested rolling hills. The superbly scenic area offers park visitors all the amenities of a modern state park. Established in 1934, the first 200 acres were donated by local citizens, sponsored by the Ponca American Legion Post.
Find out more