category : Equestrian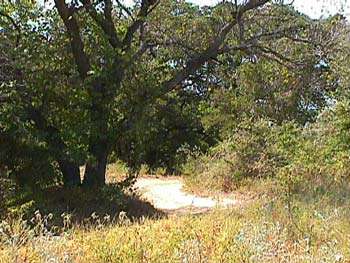 Riders can enjoy exploring almost 3,000 acres of public land located on the eastern shoreline of Whitney Lake. Winding trails guide riders through rolling pasture land, dense woodland areas and to the shoreline for a beautiful view of Lake Whitney. The area provides trail access and overnight camping facilities specifically designed to accommodate visitors and their horses.

McCown Valley Equestrian Area accommodates our visitors' most common requests. Riding groups are able to reserve campsites in the Group Use Area for trail ride events and group rides. The Group Use Area includes 10 covered horse stalls, 10 camping/RV sites with water and electric connections, and a five-acre fenced area for tent camping and parking. The Group Use Area is available for reservation on the National Recreation Reservation Service (NRRS).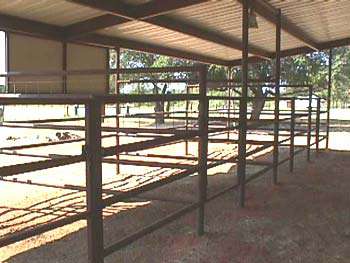 Thanks to the many groups and individulas who volunteered their time and effort during the Whitney Lake Public Lands Appreciation Day, a new 29-site equestrian camping loop at McCown Valley is complete. Volunteers assembled and installed picnic tables, fire rings, elevated grills, and lantern hangers at each campsite. All campsites are aproximately 50 feet deep, allowing room for horse trailers and pull vehicles. About half of the sites are densely wooded, providing maximum shade. Check the NRRS web site at http://reserveusa.com to reserve a campsite.

Rider Reminders:

Brochures of the general area are available at the campground gate house. Also be aware that the riding area is a multi-use area. Depending on the season and the time of day, you may encounter hunters, fishermen, and day-hikers in this area. The McCown Equestrian Riding Area is also under lease for cattle, so it is important to remember to leave the gates and gaps in the same condition as you find them. (Don't leave a gate open that was closed, and don't close a gate that was open.) Finally, we ask that riders/owners carry proof of a negative Coggins test for each horse entering the area. Lake staff may ask to evaluate your paperwork upon arrival or while in the riding area.


Admission: $1 per person or $4 per car load for visitors who are not camping overnight.
$20.00 ($18.00 in winter) for water and electric campsites.
Phone: 254-622-3332
From the City of Whitney, Texas, go north on FM 933 to FM 1713. Turn left on FM 1713. Continue on FM 1713 until the road forks. Stay left at the fork, which will be Spur 1713. This road will take you past McCown Campground then to McCown Day Use where you'll find the trail head and Equestrian Area. (If you stay to the right at the fork, following FM 1713, the road will take you across the bridge to Cedron Creek Campground. You'll find enough room to turn around at Cedron Creek Campground.

Come visit us in Texas, Texas