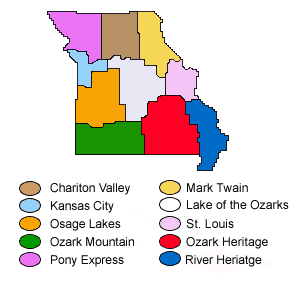 The rivers arrived first, carving their priceless art into the Missouri landscape. They were our first trails, cutting a path for hundreds of explorers and thousands of settlers. The early pioneers branched out, forming their own trails, establishing towns along the way.
As you follow those first settlers through the Gateway to the West, you too will carve a path. One filled with memories from an adventure second to none. Branch out, like the pioneers did, covering the trails that launched thousands of prairie schooners.
Along the way, experience Missouri's natural beauty and neighborliness, with a lifetime of navigable rivers. Just ask the ghosts of Lewis and Clark, who started - and ended - their 1804 Corps of Discovery in St. Charles. Carve your own path of discovery along Missouri's rivers. Blaze your own trails and write your own journals.
All across the state, you'll find plenty of opportunities to take home Missouri memories. Our shops are like our rivers. No two are the same. Each offers something new. So take off antiquing through Missouri's rich history. Browse through hundreds of shops at two of the world's largest railroad stations turned into shoppers' paradise, they're the state's biggest bookends, both named Union Station - one in Kansas City, one in St. Louis. From either spot, you can do more than read about Missouri's past, you can jump right in.
Explore Missouri