category : Museums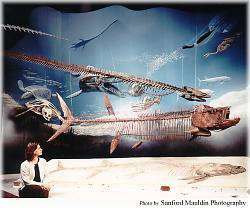 In 1899, the Territorial Legislature of the future state of Oklahoma mandated the founding of a natural history museum on the campus of the University of the Territory of Oklahoma in Norman, now the University of Oklahoma. The 195,000 square foot facility is the largest university - based museum in the country. The museum is home to over 6 million artifacts including the longest Apatosaurus, and priceless Native American objects.

The curators and staff of the museum conduct scientific investigations to preserve and develop a greater understanding and appreciation of natural resources and human cultural heritage; they develop exhibitions and conduct educational programs that illustrate, interpret, and explain the natural history of the state and region to bring a greater understanding of our world to the people of Oklahoma and others.

The museum has five exhibit halls: the Hall of Ancient Life, where visitors will walk through Oklahoma's pre-historic past; the Hall of the People features 28,000 years of human life in Oklahoma; the Hall of Natural Wonders where visitors will walk through Oklahoma's ecological regions; the Gallery of World Cultures where visitors will see objects from around the world; and the Fred and Enid Brown Native American Art and Special Exhibitions Gallery, which will house traveling exhibits. The Discovery Room has a "please touch" policy where adults and children can interact with museum collections with hands-on activities.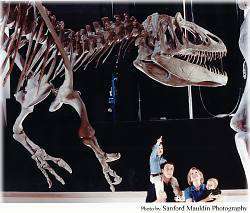 Ancient Life leads visitors on an adventure through time. Visitors begin their journey in Oklahoma's Precambrian seas and will be impressed by the wealth of Paleozoic marine life known from our state. Mesozoic exhibits showcase the Age of Dinosaurs and feature the largest world's largest Apatosaurus and a fully articulated Pentaceratops whose ten-and-half foot skull is recognized by the "Guinness Book of World Records" as the world's largest dinosaur skull.
Organized as a walk across Oklahoma, the Natural Wonders gallery immerses visitors in the varied natural landscapes of the state. gallery immerses visitors in the varied natural landscapes of the state through a series of lifelike dioramas, including a wallk-through limestone cave.
People of Oklahoma tells the fascinating story of 30,000 years of human history in Oklahoma. Exhibits in this gallery include full-scale dioramas and artifact displays that showcase ancient and contemporary Native cultures in the state. Exhibits guide visitors through time, from the first archaeological evidence of humans in Oklahoma, 30,000 years ago, to the mammoth hunters of the last Ice Age, to the fine artisans who built Oklahoma's famous Spiro Mounds 1,200 years ago, to Indian Territory and modern Native Americans in Oklahoma today.
The World Cultures gallery showcases treasures that bring the world to Oklahoma. These include a variety of classical Greek and Roman antiquities, and artifacts from Asia, Africa, and the Americas.
The Discovery Room opens a world of possibilities to visitors of all ages with hands-on, educational experiences specially designed for families. This gallery includes live animals, a simulated dinosaur dig, an easy-view microscope and a number of hands-on activities and specimens for visitors to explore.

Address: 2401 Chautauqua Ave., (University of Oklahoma Campus)
Phone: 405-325-4712
Fax: 405-325-7699
Our Email: snomnh@ou.edu
Our Website:www.snomnh.ou.edu.

Hours: 10 a.m. to 5 p.m., Tuesday through Saturday
1 p.m. to 5 p.m. Sunday
(Closed Christmas, Thanksgiving, and New Year's Day)
Open Labor Day, Memorial Day and Martin Luther King, Jr. Day
Admission fees:
$5 adults
$4 seniors (age 65 and up)
$3 children (ages 6-17)
Children 5 and under free
OU Students free (with valid OU I.D.

Tours and Group Admission
For information about tours of the museum for adult groups, please call 405-325-4712.
Come visit us in Oklahoma, Oklahoma