category : Landmarks

See visible remains of the famed Chisholm Trail etched by the hooves of millions of cattle. Monument Hill was a landmark visible to trail hands more than twenty miles away. Tours are guided by a historian and showcase Monument Hill. The ruts are located in and near Duncan. Much of the original trail was paved or is on private property.

Tour options include a chuckwagon meal with menu options. This tour is for groups of 15 or more and advance reservations are required. Call for information regarding self-guided tours.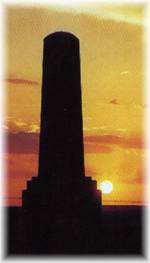 Admission: $5 per person.
Hours: By reservation only.
Address: Maps available at the Chisholm Trail Heritage Center.
Phone: 580-252-6692
Fax: 580-252-6567
Our Email: trail@onthechisholmtrail.com
Our Website:www.onthechisholmtrail.com
Chisholm Trail Heritage Center, 1000 North 29th Street.
Come visit us in Oklahoma, Oklahoma