category : Pioneer Life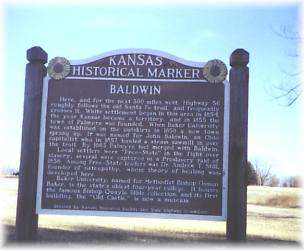 Here, and for the next 300 miles west, Highway 56 roughly follows the old Santa Fe Trail, and frequently crosses it. White settlement began in this area in 1854, the year Kansas became a territory, and in 1855 the town of Palmyra was founded. When Baker University was established on the outskirts in 1858 a new town sprang up. It was named for John Baldwin, an Ohio capitalist, who in 1857 hauled a steam sawmill in over the trail. By 1863, Palmyra has merged with Baldwin.

Local settlers were "Free-State" in the fight over slavery; several were captured in a Proslavery raid of 1856. Among Free State leaders was Dr. Andrew T. Still, founder of osteopathy, whose theory of healing developed here.


Baker University, named for Methodist Bishop Osmon Baker, is the state's oldest 4-year college. It houses the famous Bishop Quayle Bible Collection and its first building, the "Old Castle", is now a museum.


Erected by the Kansas State Historical Society and State Highway Commission


Address: U.S. Highway 56 just east of High Street

Come visit us in Baldwin City, Kansas