category : Museums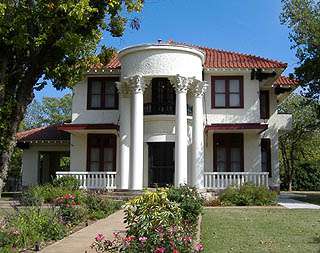 The Historic Mattie Beal Home is a 3,580 square foot, 14-room mansion constructed in 1907-1909. It sits on a portion of the 160-acres selected by Mattie Beal, the young woman whose name was drawn second in the Kiowa-Comanche-Apache Land Lottery of 1901, opening lands in Oklahoma Territory for settlement.
The Home has many unique architectural features - semi-circular entry and front door with beveled glass and circular design elements, massive Corinthian columns, grand staircase, solid slab Italian marble mantel, and a captivating colorful stained glass window that was designed and hand-crafted to depict the rolling hills of the nearby Wichita Mountains.
The Historic Mattie Beal Home has been completely restored and is listed on the
National Register of Historic Places
. The original building, a combination of neoclassical Greek Revival with Mediterranean roof, was renovated by Mattie and her husband in 1923. Today the home stands as a rare example of residential art deco architecture in southwest Oklahoma, reflecting the proud heritage of Lawton's early pioneers. Filled with period furnishings, the Home transports visitors to an earlier era. We invite you to slip back into the past and explore the grandeur of this historic mansion.
The Home is available to rent for luncheons, meetings, weddings and receptions with easy access for catering, a complete working kitchen, off-street parking, and an atmosphere of friendly elegance.

Admission: Tour fees - $4 for adults and $2 for school-age children. School tours and other group tours are encouraged - special rates apply.
Hours: Open Weekly, 12:00 to 3:00 p.m. Thursday thru Sunday
Closed Thanksgiving, Christmas & the month of January
Special schedules and rates for grou
Address: 1008 SW 5th ( SW 5th and Summit Ave.)
Phone: 580-678-3156
Our Email: contact@lawtonheritage.org
Our Website:www.lawtonheritage.org

Come visit us in Lawton, Oklahoma