category : Historic Buildings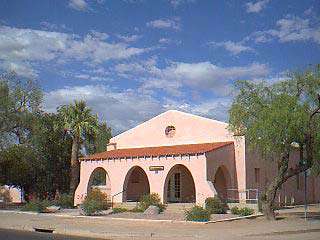 The Florence Woman's Club grew from the original Florence Village Improvement Club, organized in 1897 to improve and beautify the town of Florence. Members paid 25 cents a year to Mrs. T.F Weedin to keep the club's rake under her porch.
The Improvement Club was one of five original members to form an alliance called the Arizona Federation of Women's Clubs in 1901. In 1914, the club bought the land on which the clubhouse stands. Through fund raisers, loans and public subscription, the club raised $9,420 to erect the building which was completed in 1929, and is now listed on the
National Register of Historic Places
.
Constructed of adobe by prison inmates in Spanish Colonial Revival Style, the clubhouse is a fine example of the work of architects Lescher & Mahoney of Phoenix who also designed the Florence High School. An ornate, Spanish-style fireplace and original light fixtures are still in place.
For a period of three years during World War II, the clubhouse was rented to the USO for $75 per month. Soldiers could drop in and enjoy a reading center, play phonograph records and join in Saturday night dances.
The clubhouse also displays a collection of paintings by Garnett Moore Keeney depicting early Florence.

Address: 231 N. Willow Street

Come visit us in Florence, Arizona