category : Landmarks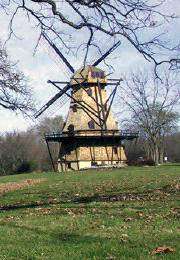 The Fabyan Dutch Windmill was built by Louis Blackhaus, a German craftsman, between 1850-1860 on a site along York Road near Oak Brook. It was purchased by Colonel George Fabyan from Luis Reinke's widow for about $8,000 and moved to his estate known as Riverbank (now Fabyan Forest Preserve), in 1914.
With authentic timber and gear work brought back from the Netherlands, the 5 story, 68 foot windmill is fully restored to operate by third-generation Dutch Windmill Maker, Lucas Verbij. "There is German, Swedish and Dutch mill wright work on this Windmill," states Verbij. "It is one of the few in the world that is restored to operate by natural wind energy."
Located on the Fox River, it is listed on the
National Register for Historic Landmarks
.

Hours: Hours vary - call for hours.
Address: Rt. 25 between Rt. 38 and Fabyan Pkwy
Phone: 630-232-2631
Our Website:www.co.kane.il.us/forest/education/windmill.htm

Come visit us in Geneva, Illinois