category : Cemeteries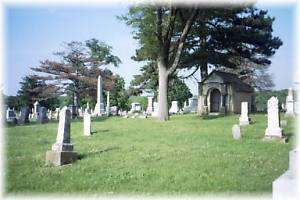 Many of Atchison's founding fathers, who were also prominent Kansans of the time, are buried in this historic hilltop cemetery.
Among those buried here are three Kansas governors, Senator John J. Ingalls, two pony express riders, legendary train engineer, Brit Craft, and both sets of Amelia Earhart's grandparents.

Address: West Highway 59 at Rawlins Road, 2 miles south
(Near the International Forest of Friendship)
Come visit us in Atchison, Kansas
Pyramid monument in a graveyard just off I44 exit 46 in Mt. Vernon, MO. Could this marker here in a small town in the Ozarks be an Illuminati symbol? Or perhaps the Masons? What does all the...