category : RECREATION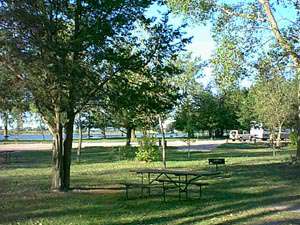 Named for the winter stopover used by Mormon emigrants heading westward, Mormon Island
State Recreation Area still offers comfort and conveniences to campers and other travelers on
Interstate 80, as part of Nebraska's unique "Chain of Lakes."

In 1884-85, a group of Mormons established a campsite about four miles downstream from the
present recreation area, prompting local settlers to dub the locale Mormon Island. The party started
too late to reach the Great Salt Lake, and these few Mormon families stopped for the winter,
encouraged by the open stream and abundant timber in the area. When the wagons rolled
westward in the spring, three graves remained, those of a mother and two small children. Among
the last Mormons to use the Platte River trail to Salt Lake, they were following a route blazed by
Brigham Young in 1846. He led a company of Mormon pioneers from Navuoo, Illinois, in search
of a new Zion. Their path along the Platte River would be followed by thousands of other Mormon
settlers.


First encountering the Platte River about six miles east of Grand Island (La Grande Isle to the
French), the Mormon Trail stretched nearly 500 miles across Nebraska. It followed the north side
of the River while the Oregon Trail kept to the south side.


With development of I-80 in the early 1960's, then Game and Parks Commission Director Mel
Steen saw the potential to create recreation and beauty out of the "borrow pits" left as fill material
was removed for construction. These pits would quickly fill with water because of the high water
table in the Platte Valley. Why not use t,his "Chain of Lakes" to beautify the roadway and at the
same time create some model recreation areas, Steen reasoned.


The first of these areas developed was Mormon Island. This area and companion Windmill SRA
near Gibbon are the most intensely developed, because of their ready access to travelers. Similar
less developed areas also serve campers and picnickers, while many less accessible sites are set
aside as state wildlife areas for fishermen and hunters.


Stretching for 160 miles between Grand Island and Hershey, these little lakes range from 6 acres to
Mormon Island's 46 acres . . . the fulfillment of a vision brought to reality.


This same area also hosts a spectacular gathering each spring, as hundreds of thousands of sandhill
cranes stop to rest and pursue their courtship rituals. The world's largest concentration of these
magnificent birds draws thousands of visitors to the region every year. Mormon Island lies on the
eastern edge of this migration route.


Arriving in early to mid-February, the numbers peak about mid to late March. The cranes spend
their days feeding and engaging in colorful courtship dances. After the first of April, the birds start
flying to northern breeding grounds and are usually gone by mid-April.


A variety of geese, ducks and other waterfowl also come to the area before heading farther north.
Ask park personnel for more information about the best times and locations to view these
impressive wildlife displays.


Camping


Mormon Island SRA offers modern camping facilities, restrooms, electrical hookups, a shower
building and a laundromat. A trailer dump station and abundant picnic tables and firegrates are also
available. All camping is first-come, first-served and is limited to three days. Fees are charged for
camping.


Fishing/ Boating


Fishing, non-powered boating and boats with electric motors are permitted on the lake. Fish
species available include: Largemouth bass, walleye, channel catfish and bluegill. Of course, anglers
must have a fishing permit, available at the office.


Other Activities


For day-use, there are picnic facilities, a shelter house and restrooms. Swimming is allowed only at
the marked swimming beach. Change houses are provided.


Pets are permitted, but must be kept on a leash no more than 6 feet long, and must be attended.
Vehicles must remain on designated roads. Fireworks and mini-bikes are prohibited.




Admission: Fees are charged for camping.
Contact Information:
Mormon Island State Recreation Area 7425 S US Hwy 281 Doniphan, NE. 68832-9526 Phone: 308.385.6211
Come visit us in Grand Island, Nebraska