DuBois, Nebraska
category : National Register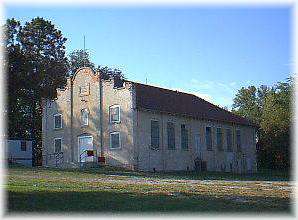 Especially valued for its architecture, this building listed on the
National Register of Historic Places
is one of a kind in the United States.

Constructed in 1920-21, the Z.C.B.J. Hall near DuBois is a large, single-story brick and tile structure, rectangular in plan, with a modestly-elaborate front gable facade executed in the Czech-American National Baroque Revival style. Exterior walls are plastered with exposed decorative colored-glass aggregate. The interior consists of a large open hall directed toward a stage with proscenium arch, with a kitchen, cloak room, and ticket office located beneath the rear balcony.

Address: DuBois, NE

Come visit us in DuBois, Nebraska
---
More National Register near DuBois, Nebraska
In 1873 under the leadership of Spotted Tail, the Brule Sioux moved from their prior agency near Fort Randall, South Dakota, ...
The Christopher Knoell Farmstead, located near Fremont, is an example of a well-preserved, late nineteenth century farmste...
---
Z.C.B.J. Hall Related Videos
Assembly Required Band of southeast Nebraska: Halloween, 2010.
Assembly Required Band at 5th Annual Klepper Memorial Poker Run - DuBois, Nebraska (August 27, 2011). Music: "Lover Like Me" written by Daniel Christian & Rickie Allen Hinrichsen.
Meet Rickie Allen Hinrichsen, guitarist of Nebraska's ASSEMBLY REQUIRED BAND.
Glazed in a light rain, Nebraska's Assembly Required Band performs outside Sportsmans Tavern in Onaga Kansas on July 3rd 2010. Video footage shot by fan Mandy ("Fandy").
Meet Daniel, keyboardist of Nebraska's ASSEMBLY REQUIRED BAND.
Nebraska's Assembly Required Band performs at Kansas City's Downtown Airport for the annual "Base Ball" to benefit the Boys & Girls Clubs of America. June 11th, 2011.