category : Museums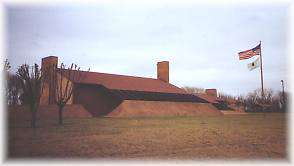 The Southern Plains Indian Museum exhibits the creative achievements of Native American artists and craftsmen of the United States. A permanent exhibit presents the rich diversity of historic arts of the tribal peoples of western Oklahoma, and a special exhibition gallery is devoted to changing presentations promoting the creative works of outstandingly talented contemporary Native American artists and craftsmen.
The Museum's sales shop, which offers a wide variety of authentic, contemporary native American arts and crafts products, is operated by the Oklahoma Indian Arts and Crafts cooperative, an independent business enterprise owned and managed by Indian artists and craftsmen.
The southern Plains Indian Museum was found in 1947-48 through joint cooperation of the Federal and Oklahoma State governments. The Museum program is administered by the Indian Arts and Crafts Board, an independent Federal agency located in the U.S. Department of the Interior, whose purpose is to promote the development of contemporary Native American arts of the United States.

Admission: Free
Hours: Year Round: Tuesday - Saturday 9-5p.m.
Closed Sunday and Monday
Address: 715 East Central, Highway 62 East of Anadarko
Phone: 405-247-6221
Fax: 405-247-7593
Our Email: spim@netride.net
Our Website:www.iacb.doi.gov/museums/museum_s_plains.html

Come visit us in Anadarko, Oklahoma
Fossils, rocks, indian artifacts. Located in the Student Union Buildling, Conners State College. ...