category : Museums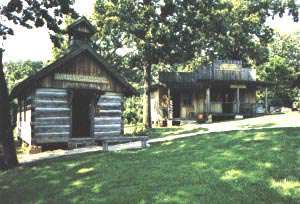 Har-Ber Village is one of the largest antique museums in the United States, located on the shores of Grand Lake O' The Cherokees in Grove, Oklahoma. Built as a gift to the public by Harvey and Bernice Jones, Har-Ber Village is a reconstructed turn-of-the-century village with over 100 buildings, collections and exhibits. New projects include an Ecology Center, Nature Trail, Sweet Annie Herb Garden, and Native American Art Gallery.
Har-Ber Village is a place from which dreams are made. There is something to see and enjoy for people of all ages. From March thru November of each year approximately one-half million tourists visit buildings and displays containing a multitude of American antiques.
As you walk along the paths and among the log cabins, consider the enormous effort it took to make the village a reality. Then consider that this village came about because of the love and devotion two Americans had for each other and for our heritage. Not only did they spend their money, but they spent thousands of hours attending auctions, sorting and selecting articles and placing each piece, one by one, in its proper place. Now consider that this was all done in their spare time and on weekends.
Other highlights include:
* Self-guided tours
* Handicap accessible
* Chapel and Ecology Center available for rental
1 ½-mile nature trail
* Restaurant facility on site (open Tuesday – Saturday, 11 a.m. – 3 p.m.)

Admission: Admission fees, $10.00 14-62 yrs, $7.50 Seniors 63+, $5.00 Kids (6-13), under 6 FREE
Groups Tours (10+) $7.50 each, School Tours (10+)Free for stud
Hours: Open Daily: March 1st until November 12th. Mon-Sat 9am-6pm/Sun 12pm-6pm
Address: 4404 W 20th St, 3 miles west of Main St on 13th St.
Phone: 918-786-6446
Our Email: info@har-bervillage.com
Our Website:www.har-bervillage.com
* Self-guided and guided tours
* Handicap accessible
* Wedding chapel
* Restaurant facility
Come visit us in Grove, Oklahoma