Lawton, Oklahoma
category : Historic Churches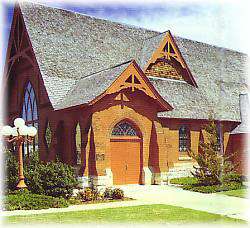 The Little Chapel was built in 1902 and is believed to be Lawton's oldest remaining public building. Its stained glass and restored antique organ are a highlight of any visity to Lawton .
Carefully restored, the Gothic Revival church now houses the Leslie Powell Art Gallery upstairs.

Address: 716 SW D

Come visit us in Lawton, Oklahoma
---
More Historic Churches near Lawton, Oklahoma
---
Little Chapel Related Videos
Deans Chapel Baptist Church, Rev Don E Dumas, Pastor Muskogee OKlahoma Black History is everyones history, we have to educate our children. Skyler Little performing a monologue Leroy Jones.
Oklahoma Baptist University has a rich and storied collection of Campus traditions that serve to unite all generations of Bison, such as the freshman beanie, Ka-rip, and the Alma-Mater. There...
Monologue "Hats" by Skyler Little of Eastside Baptist Church in Okmulgee OK. Performed at Deans Chapel Baptist Church, Rev Don E Dumas, Pastor.
March 3, 2012. Oklahoma city Walnut Creek Chapel. My sister and dad planned a surprise choreographed dance performed at her wedding reception!
Visit our blog too! http://redeemedproductions.com/2014/08/04/elizabeth-ben/ Elizabeth and Ben's wedding was at Vesica Piscis Chapel in Catoosa, OK. Elizabeth and Ben are one of those couples...
SISTER KOURTLYN BELTED OUT THIS LITTLE LIGHT OF MINE AT DEANS CHAPEL BAPTIST CHURCH IN MUSKOGEE OK, AND DID A GREAT JOB!! JANUARY 2011.