category : Recreation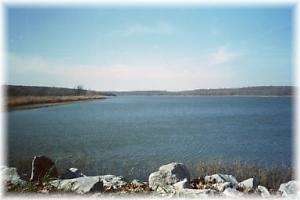 Okemah boasts one of the most beautiful 1100 acre city lakes in the state of Oklahoma. Okemah City Lake complex offers superb fishing, water skiing, RV Park and camping. The 1998 Angler's Guide ranked Lake Okemah as the number one fishing spot for bass fishing. This rating was the result of tournaments reported by the many different bass organizations holding events across Oklahoma.
Okemah Lake has room for the fishermen and the water-skiers alike. Recreation facilities include: Tent and camper spaces, 14 elec/water hookups with restrooms/showers, outdoor grills, pavilions available for retreats and family or church gatherings, restrooms, a swimming area, a playground for the kids, a boat dock and boat ramps.
If you like to fish, try it from your boat or from the sixteen miles of shoreline up and down the lake. Okemah Lake is stocked with Large & Small mouth Bass, as well as Channel, Blue & Flathead Catfish. Perch... Bluegill & Goggleeye are in abundance. Bring your fishing gear & enjoy some great fishing!

Hours: Open year round from 5:30 am to 9 pm in the summer, and until dusk in the winter.
Address: 7 miles north of Okemah
Phone: 918-623-1539

Come visit us in Okemah, Oklahoma
Happy Lake is available by reservations only. Camping, fishing, canoeing and nature walks are a few of the activities....