category : Ethnic Heritage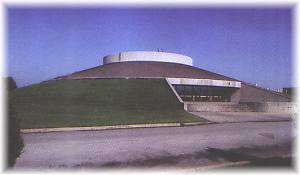 The Creek Nation Tribal Complex serves as the government headquarters for the Creek Nation including all divisions of tribal government.
The Mound Building at the Complex is modeled from the Southeastern Mound Culture of the Southeastern United States Indian. The building is the center of community, spiritual, and cultural life.
The complex houses executive, judicial, and legislative offices. Next the the complex is the Creek Nation Okmulgee Bingo Hall and the Creek Nation Rodeo Arena, home to the Creek National Rodeo in June.

Hours: Tours Available
Phone: Tours Available

Come visit us in Okmulgee, Oklahoma