category : Museums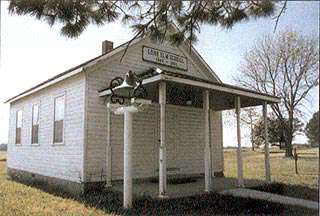 The Osage Mission-Neosho County Museum proudly welcomes visitors to its recently completed museum complex located across the highway from the historic St. Francis Catholic Church. Artifacts and area history dating back to the earliest settlement of the area by the Osage Indians and during the Louisiana Territory acquisition by France and subsequently the founding of the Catholic Osage Mission are included in the Museum building.
The main exhibit area of the museum features a log cabin that was moved from north of Erie. The cabin remained on its original Log Cabin site 5 1/2 miles northwest of Erie from 1876 until it was moved to the museum. The cabin escaped decay for years as the center of a large barn that was built around it sometime in the 1880s.

Admission: Admission is Free, donations welcomed
Hours: 9:00 - 2:00 Tuesday through Saturday
Welcome for appointments
Address: 203 Washington
Phone: 316-449-2320
Our Email: museum@osagemission.org
Our Website:www.osagemission.org

Exhibited with the cabin are furniture, tools, and other artifacts of that era, many of which were donated by Jovalene Heaton and belonged to Elizabeth Anderson Heaton, sister of the displayed cabin's builder, Lewis J. Anderson. The logs appear to have been shaped by the tools of the time, a broad axe to notch the poles and a draw knife to flatten the sides.
The Lone Elm School, dating from 1867 to 1951, is now known as the Schoolhouse Museum and allows visitors to experience school days in the one-room school. Children get a thrill from ringing the school bell that stands on the front lawn.
Less than a mile south of the museum is the first bridge over the Neosho River in Neosho County, completed in 1871. Rock for the pier was quarried from the same ledge of rock used to construct St. Francis Church. The county closed the road at the request of the landowner more than 30 years ago. The steel hulk remains far from the river's south bank, standing as a memorial in the river's ever-changing channel.
Gift Shop: A stuffed bobcat lounges atop a collection of crosses outside the Neosho Trading Post. The gift shop offers everything from candy and t-shirts to historical books and a little red wagon.
Come visit us in St. Paul, Kansas